Olympe Leflambe joins as General Counsel, Legal & Compliance
Olympe Leflambe, former Senior Legal Director, Payments EU & APAC at eBay, will be joining the executive committee, focusing on strengthening our risk management capabilities and ensuring we offer a best-in-class customer experience.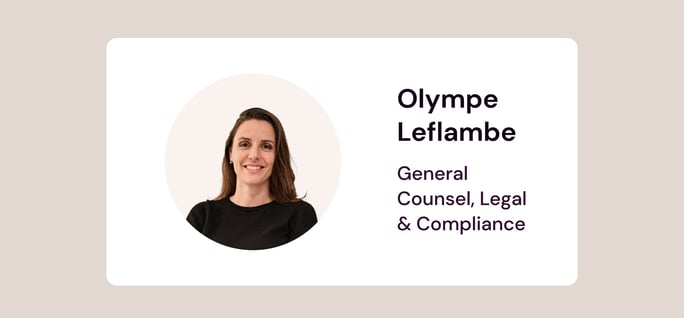 We're thrilled to announce another great addition to the Mangopay team with the appointment of Olympe Leflambe as General Counsel, Legal & Compliance.
Reporting to CEO Romain Mazeries, Olympe will bring her wealth of experience to provide strategic advice to Mangopay's senior leadership team as we move to strengthen our commitment to regulatory compliance and engage with policymakers and regulators globally.
With over 20 years of experience in the payment industry, Olympe will manage and develop our legal and compliance teams. She will also provide business-enabling legal and compliance guidance and work closely with our leadership team and stakeholders to consolidate our leadership status within the industry.
"I am pleased to welcome Olympe Leflambe. As our team focuses on expanding our product offers to accelerate Mangopay's growth, we believe that Olympe's experience and legal knowledge will prove to be an invaluable asset to us. I am confident that she will strategically steer our team to set new industry standards for regulatory compliance and implement risk management best practices as we embark on our next phase of growth globally. She joins us at a critical time and will play a key role working with me, our Board and the rest of our team."
Romain Mazeries, Mangopay CEO
Prior to joining Mangopay, Olympe was Senior Legal Director, Payments EU & APAC Senior at eBay. She also worked at Amazon as Senior Corporate Counsel – EU payments where she provided support and strategic advice on a wide range of commercial and regulatory matters relating to Amazon EU payments businesses. During her career in the marketplace and payment industries, Olympe Leflambe worked at PayPal where she supported activity in Southern Europe and Eastern Europe. She holds an international business Licence degree from the University of La Sorbonne in Paris and a Master's degree in Law from the University of Lausanne where she wrote a thesis on Legal aspects of Electronic money.
"I am thrilled to join Mangopay at such a key moment to lead its global Legal and Compliance team. I will be bringing my deep knowledge and experience to an exciting digital payment solutions pioneer, which is focusing 100% of its efforts on the specific needs of marketplaces and platforms. I look forward to working with the team to continue to uphold the highest standards of regulatory compliance, in all of the jurisdictions in which Mangopay operates''.
Olympe Leflambe, General Counsel, Legal & Compliance at Mangopay.