Marketplaces have become more than third-party platforms
Marketplaces have become an essential driver of e-commerce growth. Who better to take us through the strengths of this business model, and the latest innovations - especially regarding payment, and regulations, than Marc Lolivier, Executive Director of Fevad.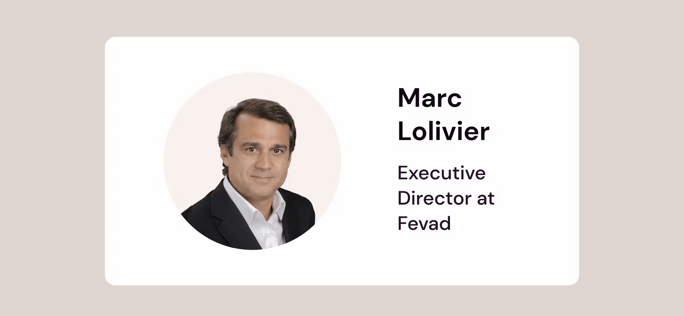 Could you tell us about the latest trends in e-commerce?
Marc Lolivier: We have just released the results for 2021, after a period obviously dominated by Covid. Internet sales surpassed 129 billion euros in France (+15.1% compared to 2020); in Europe, they amounted to 718 billion euros (+13%) and worldwide they reached nearly 5 trillion dollars (+16%). Overall, one could say that the e-commerce sector continued to grow in 2021, driven by the acceleration of product sales and the upturn in transport, tourism and leisure sales. The recovery of products and services is continuing in 2022. In France, in the first quarter of 2022, we have returned to a level equivalent to 2019 in terms of sales of services online.
Within this e-commerce segment, how are marketplaces evolving?
Marc Lolivier: Both marketplace pure players (Rakuten, Vinted, eBay...) and hybrid sites (i.e. those that have a marketplace activity in addition to their main activity) are growing significantly. 36% of e-merchants sell their products on third-party marketplaces. And Fevad's top 15 e-commerce sites are all hybrid sites.
You consider that marketplaces have an important role to play for SMEs. Why is this?
Marc Lolivier: Marketplaces have accompanied the development of third-party vendors, particularly VSEs/SMEs, which were still struggling in 2021 due to the health crisis. They are intermediaries that allow lesser-known sellers to benefit from an immediate and large audience and therefore to quickly generate high sales volumes. A small brand can therefore gain more influence simply by opening an e-shop on a marketplace. In short, they offer easy access to e-commerce at a low cost as they are a commission-based model, which minimizes financial risks.
Will marketplaces replace e-commerce sites in the future?
Marc Lolivier: I don't think so. To date, we estimate that the overall turnover of marketplaces represents 20% of e-commerce activity in France (and 33% on our panel alone, which is mainly composed of market leaders).
By their ability to centralize an almost unlimited offer on a single platform, marketplaces meet the needs of consumers demanding an optimal shopping experience. However, the conclusion of their journey, i.e. the payment stage, must also provide a smooth and pleasant experience. What are your thoughts on this?
Marc Lolivier: Payment is a crucial part of the customer experience. For a long time, it has been an obstacle to shopping online.
The customer's number one expectation is of course payment security. This is a key step in building a long-term relationship based on trust. But it's a challenge: it requires the highest level of security, and, at the same time, the customer journey must remain as smooth as possible. But the more control points you have, the more fluidity you lose. This is why there is a lot of work being done on this subject, with many innovations.
For all intents and purposes, I would also like to point out that the third customer requirement in online shopping is the possibility of having a choice of payment methods. In fact, the latest survey we conducted with Médiamétrie found that 59% of e-buyers have used several payment methods to make online purchases over the past 12 months. This clearly shows the importance of payment in the customer experience.
Is this even more true on a marketplace?
Marc Lolivier: Today, we see that the marketplace is no longer, as it was in the beginning, a simple intermediation platform. It also offers many other services, including payment. However, in a marketplace, because of its multiple sellers and its international presence, payment is a much more complex step, which must be taken into account to succeed in business.
Marketplaces are the only intermediated sector where there is real competition because there are so many different players. This competition pushes them to innovate to stand out and this goes through the creation of services, some of which are payment oriented.
The increase in marketplace activity and the emergence of certain "illicit" commercial practices have led legislators and supervisory authorities to increase the number of regulations applicable to these "online platforms". What are they?
Marc Lolivier: There have been several. These include, in France, the Digital Republic Bill, of October 7, 2016, which outlines obligatory information requirements applicable to online platform operators. Then, the Anti-Fraud Act, voted in October 2018, which sets up a procedure for reporting sellers suspected by authorities of not paying VAT. Let's not forget the KYC (Know Your Customers) procedure, which is a measure provided for by the 3rd and 4th European anti-money laundering and terrorist financing directives. Its objective is to protect customers from potential breaches on a marketplace but also to clearly identify the persons (legal or natural) with whom the marketplace does business.
The process therefore applies as much to merchants present on the marketplace as to the buyers. As a reminder, e-commerce activity was first regulated by Directive 2000, which was conceived at a time when marketplace activity did not yet exist.
The revision of the E-commerce 2000 Directive was finalized this year, with the creation of the Digital Services Act (the DSA). Can you elaborate?
Marc Lolivier: The aim is to promote the development of digital services within the Union, while guaranteeing a high level of protection for all their users.
The main objective of the DSA is to update the rules on the responsibility of technical intermediaries by emphasizing the moderation of illegal content through the strengthening of the obligations of platforms, the control mechanism by the competent authorities and the penalties incurred.
Marketplaces are subject to particular attention resulting in a series of specific obligations relating to the traceability of sellers ("KYC"), transparency vis-à-vis the consumer, etc.
In addition, the DSA provides for increased supervision of "very large platforms", in other words, those with more than 45 million users in the European Union.
This proportionate approach is a good thing because it gives smaller platforms more flexibility, which is interesting from a competitive point of view. In concrete terms, market players must now anticipate the implementation of the DSA and begin a compliance process to comply with the new practices and remain competitive in this new environment. The deadlines are short: 7 months for large platforms and 15 months for SMEs and VSEs from the date of publication in the Official Journal (OJ).