Digital transformation: marketplaces at the forefront
Marketplaces are expected to account for over 70% of e-commerce sales this year. To discuss this trend, we caught up with Olivier Godart, associate director at Diamart and co-founder of Diamart Now, a digital project management consulting agency. 'Marketplaces are a valuable tool in the digital transition of the retail industry,' he agrees, based on his experience with But, Darty and Monoprix.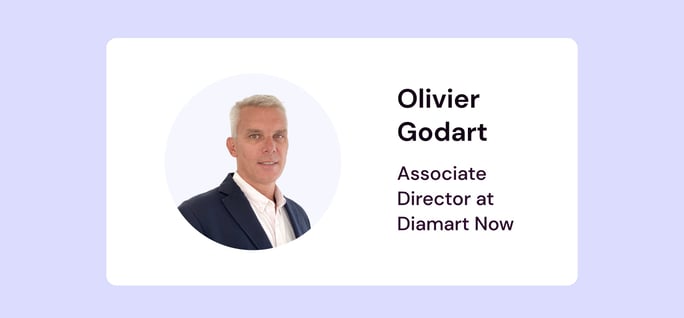 One after the other, retail industry giants are adding marketplaces to their e-commerce sites. What is your analysis of this digital transformation undertaken by retailers?
Olivier Godart: We are seeing a generation of consumers who naturally buy online. Some retailers - such as Fnac-Darty - have reacted faster than others because they were directly threatened by Amazon on their market. The increase in the sale of high-tech products online encouraged the retailer to fast track its digital transformation. In addition to offering their own products, they offer thousands of other items through their marketplace. Fnac-Darty understood that its survival depended on its ability to offer an ever broader catalog. Hence the launch of the Fnac-Darty marketplace, which attracts many merchants and is able to compete with pure players. Their online sales accounted for 26% of total revenue in 2021 and gained seven points compared to 2019. The trend has accelerated with the pandemic, forcing retailers to make the switch. Retailers are now leveraging marketplaces to conquer market share. As an example, look at the top 20 most visited e-commerce sites and applications in France: 17 of them are or have adopted the marketplace model!
How do you explain this consumer preference for marketplaces?
Olivier Godart: Consumers want a much wider choice of products than in a store or on a traditional e-commerce site. They also want to be able to compare offers, benefit from cheaper prices thanks to competition between sellers, and save time when it comes to searching, ordering and paying. The marketplace model perfectly meets all of these requirements.
The marketplace is a business model where value is provided by third-party vendors. How can you be sure of the quality of these vendors?
Olivier Godart: The success of a marketplace relies almost exclusively on contracting quality merchants who will bring the platform to life through their sales. Ensuring the quality of vendors is the prerequisite for a marketplace to grow in terms of supply. In fact, the more vendors it has, the more products it aggregates, the more it grows, with little financial risk for the operator. Thus, to guarantee the growth of the platform, the contracting phase of new vendors:
creation of the vendor account
verification of legal documents such as identity papers, etc.
This process must be as clear and simple as possible, in compliance with local and European regulations. The same goes for payment management."
It is necessary to offer vendors the best selling conditions in order to generate enough supply that will in turn attract buyers.
Have you seen this same need for digital transformation in the B2B sector?
Olivier Godart: This sector has existed for years in a perfect world, with the traditional paper catalog. But here again, digitization is necessary. B2C has inspired B2B. Professional buyers now want to find the same services on B2B marketplaces.
Obviously, they are just like any other consumer. They cannot understand why they can order their shoes on a marketplace using a mobile app but have to fill out a form in triplicate to order office supplies, for example! That said, in B2B, digital transformation is more challenging. Indeed, it represents a change in business organization. What pricing strategy should you adopt? How to integrate the negotiation part that is inherent to the B2B business model? For example, Sonepar, a distributor of electrical equipment and related services, does not display its prices online until you are logged in with your account.
What are the growth strategies and possible developments for marketplaces?
Olivier Godart: Catalog diversification and customer segments. More and more C2C platforms are appearing, in the wake of Vinted's success! There are more than 19 million members in France alone!]. The pandemic has really accelerated the second-hand sector. In a context of strained purchasing power, the resale of goods allows users to earn additional income or to benefit from lower prices. In addition, consumers become retailers in their own right and have fun doing it.
Veepee, which has developed the "re-turn" model that allows users to resell new items to other members without having to go through the warehouse, is also an interesting example. This strategy allows the platform to disengage from managing returns.
We are also seeing an upsurge in B2B activity. For example, ManoMano, specialized in online DIY and gardening for individuals, is launching a specific platform dedicated to professionals, ManoManoPro. Another interesting example is that of manufacturers who are joining marketplaces, such as Nestlé, which sells on Amazon.
Do you think that this marketplace boom will continue?
Olivier Godart: Of course it will! Especially since access to platforms is getting easier. The race for traffic is such that expanding your offer is a good thing. Traffic acquisition is very expensive; therefore the contributions of marketplaces on these subjects are far from trivial. For merchants who have an online site, being on a marketplace will mechanically increase traffic on their site as well. Another advantage of this business model is that it allows e-merchants to test foreign markets simply and quickly without heavy investment on their part. Provided, of course, that financial flows are properly managed, taking into account issues such as exchange rates, payments in foreign currencies, etc.
What about competition on marketplaces?
Olivier Godart: It's a blessing in disguise. Darty, for example, has no problem selling products that are identical to its own on its marketplace. Merchants must understand that they are not alone on their market. Marketplaces allow them to face this reality.