How Mangopay supports Malt with a custom payment solution
Learn how Malt's partnership with Mangopay has enabled it to deliver a unique and powerful user experience and double its transaction volume year on year.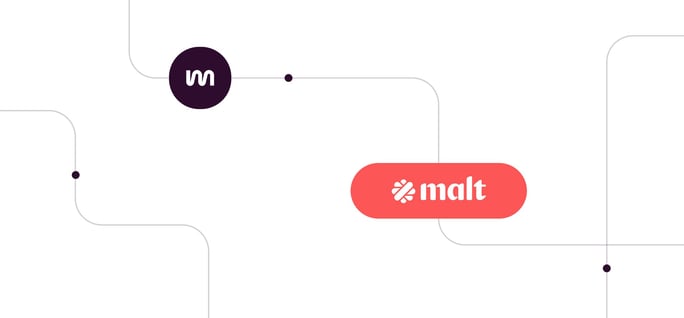 About Malt

Malt is the largest freelance community in Europe, with more than 370, 000 independent freelancers, and more than 40,000 client companies, including 85% of the largest corporations listed on the CAC40, DAX and IBEX 35. Every month, over 10,000 projects are submitted on the marketplace.
Specialized in connecting companies with talent, Malt allows freelancers to find new projects and manages the administrative follow-up, including payments.
Founded in France in 2013, Malt (formerly Hopwork) arose from two realizations:
The difficulty for freelancers to:
Find new projects
Formalize contracts
Get paid for their work
The difficulty for companies to:
Find talent to accelerate their projects
Optimize their use of freelancers
Malt's answer is clear: provide a marketplace where qualified freelance consultants can offer their skills and expertise to companies looking for external talent to accelerate their projects. Malt operates a service marketplace in a B2B environment. The platform charges companies a fee for their services and takes a commission on the freelance side.
Comply with marketplace regulations
Facilitate the onboarding of new freelancers
Guarantee the payment of freelancers in a secure and fast manner
Adapt payment mechanisms and flows to different types of customers
Internationalize operations and footprint
Automate reconciliations and invoicing
How Mangopay supports Malt
Since 2013, Mangopay has been working with Malt's teams to build and optimize payment flows within the marketplace. Mangopay's API is flexible and can be adapted to the changing needs of the platform and the new features that Malt wants to offer its users.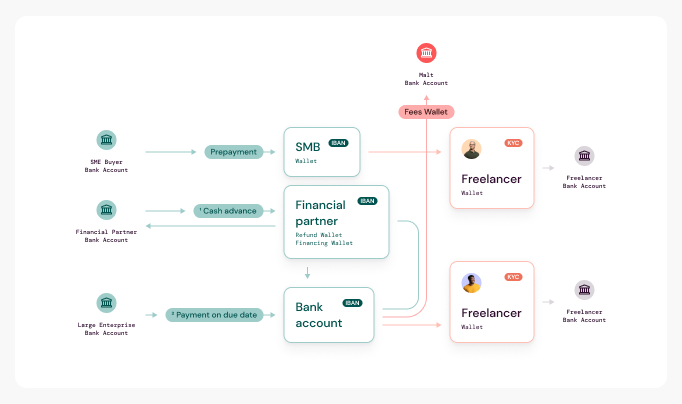 Mangopay created a custom workflow for Malt, providing an optimal experience for freelancers and businesses.
A full-stack payment infrastructure designed for B2B platforms
Mangopay manages all of Malt's payment flows in compliance with marketplace regulations, including PSD2, GDPR and PCI-DSS directives and standards.
With a single contract, Malt benefits from Mangopay's EMI license and can operate throughout the European Economic Area, which includes 30 countries.
For

pay-in, a broad range of international and local payment methods are available and can be activated instantly. Malt currently offers credit card and bank transfers.
The flexibility of Mangopay's

e-wallet

system allows the creation of workflows tailored to the customer's needs. Malt can create as many "mission" e-wallets as needed to enable its users to manage their projects.
The automation and validation of

KYC/KYB (Know Your Customer)

ensures smooth and fast onboarding.
Mangopay supports Malt in

factoring, particularly in the search for new financing partners in the countries where it wishes it to be implemented; in the construction of an adapted workflow and in the creation of adjustable financing options.
Mangopay helps Malt control

payout

timing and can carry out payments in 15 currencies.
Creating fast and smooth payment flows has enabled Malt to deliver a unique and powerful user experience and double its transaction volume year on year.
2021 was a record year for the company. Mangopay processed 244 million euros in pay-in on behalf of the platform. The most popular payment methods were SEPA bank transfers, credit cards (Carte Bleue/Visa/Mastercard), followed by Ibanization.
The automation of KYC checks has enabled Malt to onboard freelancers four times faster than in 2013: in 2021, 87,916 documents were processed via the API.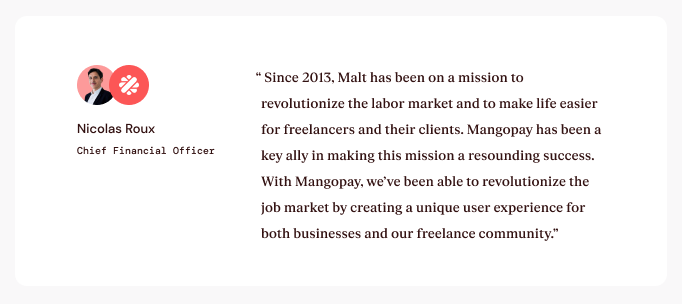 With the implementation of efficient fund reconciliation, automated invoicing and automatic IBAN generation, Malt's operational finance teams have been able to save one workday per week.
In 2021, Malt and Mangopay built an Instant Payout workflow that enables the platform to deliver on its commitment to freelancers - and even exceed it - by paying them within seconds of a project's completion. Since January 1, 2022, 59.3 million euros have been processed through Instant Payout.
Finally, the availability of numerous payment methods, local IBANs and Mangopay's assistance in identifying financing partners is helping Malt accelerate its international development.
Your partner in marketplace growth
Malt's future is on the international stage. The marketplace intends to reach one billion euros in volume of transactions by 2024. With the ambition of generating 40% of its business outside of France, focusing on Western Europe. Until then, the company plans on relying on Mangopay for regulatory and technical answers to multi-currency payment challenges.
Malt counts on Mangopay's compliance, finance, fraud, and technology experts to advise its teams on the integration of new functionalities or on expanding into new countries based on its objectives and local specificities.
We're proud to be part of success stories like this one and are committed to anticipating and meeting the needs of marketplaces of all sizes and types.
If, like Malt, Vinted, Chrono24, Leboncoin, Rakuten, Carrefour and more than 2,500 other platforms, you want to use our API, our marketplace payment experts are here to help.
This study was first published in August 2022.