Creating fast and smooth payment flows has enabled Malt to deliver a unique and powerful user experience and double its transaction volume year on year. 
2021 was a record year for the company. Mangopay processed 244 million euros in pay-in on behalf of the platform. The most popular payment methods were  SEPA bank transfers, credit cards (Carte Bleue/Visa/Mastercard), followed by Ibanization. 
The automation of KYC checks has enabled Malt to onboard freelancers four times faster than in 2013: in 2021, 87,916 documents were processed via the API.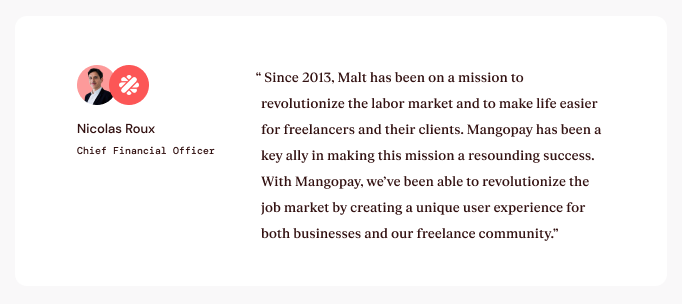 With the implementation of efficient fund reconciliation, automated invoicing and automatic IBAN generation, Malt's operational finance teams have been able to save one workday per week. 
In 2021, Malt and Mangopay built an Instant Payout workflow that enables the platform to deliver on its commitment to freelancers - and even exceed it - by paying them within seconds of a project's completion. Since January 1, 2022, 59.3 million euros have been processed through Instant Payout.
Finally, the availability of numerous payment methods, local IBANs and Mangopay's assistance in identifying financing partners is helping Malt accelerate its international development.