Carlos Sanchez Arruti joins as Chief Financial Officer
Carlos Sanchez Arruti, formerly Finance Director at Amazon, joins Mangopay's Executive Committee as Chief Financial Officer to scale and streamline the finance function and support revenue growth.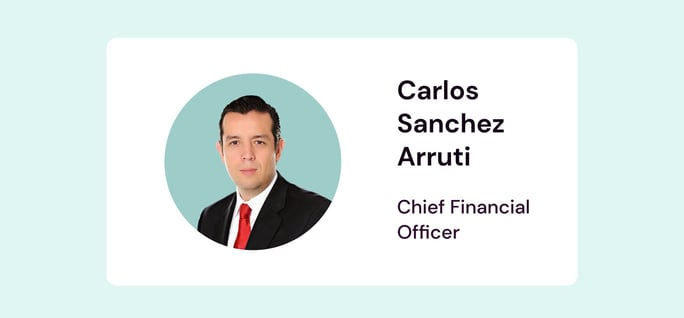 We're thrilled to announce the appointment of Carlos Sanchez Arruti as Chief Financial Officer and latest addition to our executive committee.
Joining from his prior role at Amazon as CFO of LATAM where he drove financial strategy, transformational change, and operational excellence at scale, Carlos will play a crucial role in enabling aggressive growth as Mangopay's reach expands across the globe, while operating at the highest standards of discipline and fiscal responsibility.
Based in Luxembourg and reporting directly to CEO Romain Mazeries, Carlos will oversee financial planning and analysis, pricing, accounting, treasury, business support.
With more than 20 years of experience working for financial services, retail and platform organizations, Carlos brings a track record of leadership in a high-scale environment and a proficiency in strategic transformation to help Mangopay achieve strong financial results. He will be responsible for driving our financial strategy and scaling our finance organization to accelerate revenue growth.
"Carlos has broad experience in managing complex and large PnL plans. His in-depth financial skills will be key assets in supporting Mangopay's growth trajectory, M&A and integration roadmaps, as well as operational efficiency."
Romain Mazeries, Mangopay CEO
Carlos Sanchez Arruti was previously Finance Director for Amazon Transportation Services EU and CFO for Amazon LATAM where he was responsible for strategy and operational excellence. Carlos also spent two years at American Express as a Vice President of Finance, and 14 years at GE Capital in multiple roles of increasing responsibility. A native from Puebla, Mexico, he holds an MBA in Corporate Finance from Columbia Business School in the City of New York, and a Bachelor's Degree in Economics from Universidad Panamericana in Mexico City.
"I'm delighted to be joining Mangopay at such an exciting time in the platform economy's growth journey, and being part of a team continually innovating its already market-leading, customer-first ecosystem. As the business continues on its upwards trajectory, I look forward to playing a key role in maintaining its sustainable growth. I'm ready to lead this large-scale business and I look forward to using my skills to help accelerate Mangopay's already steep growth trajectory."
Carlos Sanchez Arruti, Chief Financial Officer at Mangopay.