Ronen Benchetrit joins as Chief Technology Officer
Ronen Benchetrit, former CTO for Pokerstars, Zopa and Bumble, will be joining the executive committee as Chief Technology Officer, focusing on strengthening our tech to accelerate product innovation and scalability.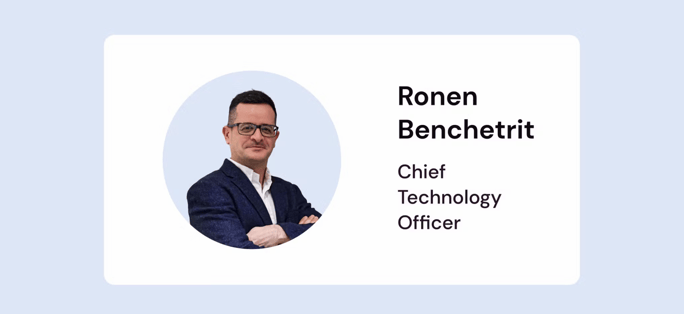 Another day, another key appointment: we're thrilled to welcome Ronen Benchetrit as Mangopay's Chief Technology Officer and new addition to our executive committee.
Based in the UK and reporting to CEO Romain Mazeries, Ronen will be bringing his three decades of experience leading high-performing tech and engineering teams to help Mangopay build modern, resilient and scalable tech.
He will strategize and execute the tech evolution necessary to support business growth, working closely with Mangopay's leadership and plans to double the team in the next 24 months, enlisting top-tier talent in all departments.
"I am excited to welcome Ronen Benchetrit. Ronen's experience will be game-changing to accelerate our growth. In the last couple of months, Ronen has already been driving the company's global technology strategy by fostering a strong engineering culture as well as by providing technical leadership across all areas of the business."
Romain Mazeries, Mangopay CEO
Ronen was previously at Bumble, a dating and networking app, where he served as CTO. Prior to that, Ronen was the CTO for a UK challenger bank and pioneering peer-to-peer lender Zopa. He also served as CTO for leading online gaming operator PokerStars where he led the tech function from private company stage through to its initial public offering. He has a Bachelor's Degree in Computer Science and holds a few granted patents in the computer science field.
"The platform economy is booming. Platforms have become an essential driver for e-commerce growth as they bring so many benefits to both buyers and sellers. Mastering payments at scale in this field is complex yet key to all platforms. Compounded with business growth, this creates an exciting tech journey for our tech team and I'm thrilled to join Mangopay at such a key moment in its evolution. Mangopay's potential is unrivaled and I am excited by the opportunity to build a best-in-class payment ecosystem and deliver even more value to our customers."
Ronen Benchetrit, Chief Technology Officer at Mangopay