How Rue du Commerce successfully diversified into a marketplace model with Mangopay
Since 2015, Mangopay has been helping Rue du Commerce to overcome complexity, streamline payments operations while complying with regulatory requirements.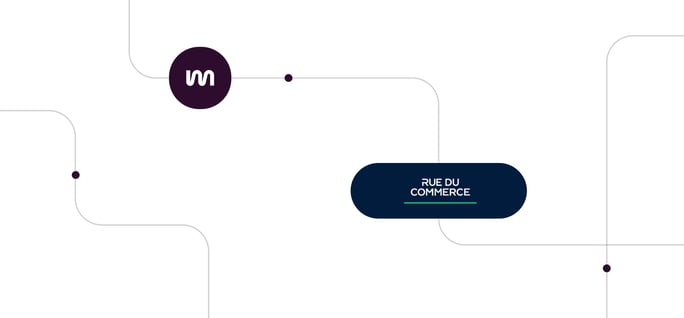 About Rue du Commerce

Rue du Commerce is a French pure player specializing in high-tech household goods and appliances. In addition to its own offer, the platform hosts over 1,000 active merchants and offers a catalog of 6 million products from more than 3,000 leading brands and retailers.
Created by two French entrepreneurs, Patrick Jacquemin and Gauthier Picquart in 1999, Rue du Commerce is a French e-commerce pioneer.
In the early 2000s, e-commerce was still a relatively new concept, but the site quickly found its audience among technophile users and early adopters. The platform regularly ranked among the top 5 most visited sites in France.
In 2007, Rue du Commerce decided to take advantage of its high traffic by diversifying into a marketplace model. This enabled it to:
On the offer side:
Expand its catalog and offer new product categories
Attract new forms of expertise from merchants
Offer customers more options, better prices and product availability
On the operational side:
Generate more revenue without carrying additional inventory
Be relieved of logistical constraints
Rue du Commerce operates a B2C marketplace in an e-retail environment. The marketplace charges merchants a single monthly subscription fee and takes commissions based on product categories. This package allows merchants to offer an unlimited number of products and to freely set their prices.
Rue du Commerce's challenges
Maintain its acquiring PSP
Comply with payment services regulations related to marketplaces
Streamline the onboarding of new merchants
Escrow and split payments
Ensure safe and timely merchant payment
Automate reconciliation and billing
Internationalize operations and footprint
How Mangopay supports Rue du Commerce
In 2015, Rue du Commerce turned to Mangopay to manage merchant verification, as well as the escrow and transfer of funds resulting from its marketplace activities. The marketplace's operational and compliance needs were met without having to change its acquiring PSP.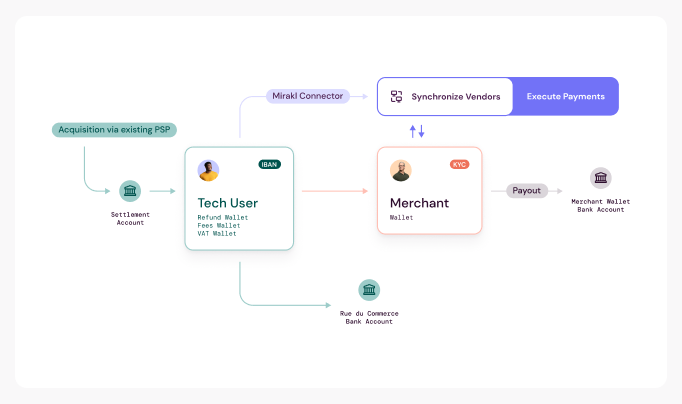 Mangopay and Mirakl's partnership with Rue du Commerce ensures optimal management of payment flows and merchant onboarding.
Marketplace Payment Extension
Mangopay's Mirakl connector is the plug-and-play solution designed specifically for e-retailers wanting to diversify their business without adding complexity to their checkout process. Mangopay is one of the first PSPs to be certified by Mirakl, a testament to the quality and enduring nature of the collaboration between the two companies.
With a

single contract, Rue du Commerce benefits from Mangopay's EMI license and can operate throughout the European Economic Area, which includes 30 countries.
Mangopay's

Marketplace Payment Extension

offers complete flexibility because it allows platforms to keep their existing PSP(s) and conditions.
Mangopay's flexible

e-wallet

system allows for the creation of payment flows designed to meet Rue du Commerce's needs and specifications.
Automation and validation of KYC/KYB

(Know Your Customer) ensures smooth and fast merchant onboarding.
Automated

Ibanization

of e-wallets accelerates processing time, compared to traditional bank transfers.
Before partnering with Mangopay, revenue from merchants' sales were collected by Rue du Commerce, held in the platform's bank account. They would then manually calculate amounts to be paid to each merchant, representing a significant operational workload.
In addition, merchant registrations and KYB statuses are updated and synchronized via the Mirakl plug-and-play connector developed jointly by the two companies. No more manual document management.
Mangopay's white-label e-wallet and Ibanization technology allows Rue du Commerce to host an unlimited number of merchants and to automate pay-outs. The ability to create its own payment rules and automatically calculate amounts per merchant has allowed Rue du Commerce to save time on bookkeeping, making transfers and reconciliations faster and more secure.
Finally, Rue du Commerce is compliant with the regulatory requirements related to operating a marketplace, such as PSD2, GDPR and PCI-DSS, thanks to Mangopay's EMI license.
Rue du Commerce counts on Mangopay's compliance, finance, fraud, and technology experts to advise its teams on the integration of new functionalities or on expanding into new countries based on its objectives and local specificities.
Your partner in marketplace growth
Today, 70% of merchants on the marketplace are French. To further broaden their high-tech product catalog, Rue du Commerce wants to attract new merchants, particularly major European players already present on foreign marketplaces, but also from Asia.
We're proud to be part of such success stories and are committed to anticipating and meeting the needs of marketplaces of all sizes and types.
If, like Rue du Commerce, Malt, Vinted, Chrono24, Leboncoin, Rakuten, Carrefour and more than 2,500 other platforms, you want to use our API, our marketplace payment experts are here to help.
This study was first published in November 2022.